Araluen Creek Restoration Project - Timeline
The project was initiated after the 2019-20 bushfires burnt around the Araluen Valley. Upper Deua Catchment Landcare Group obtained the Bushfire Community Recovery and Resilience grant in May 2021. However, Covid-19, several severe rain events, floods and landslides meant delay after delay. Three years later, we are all very relieved with the successful completion of the project.
This is an exert from the Araluen Creek Restoration Project 2021-2023 Report compiled and prepared by Cath Harrison, UDCLG Project Community Liaison Officer. The full report can be found HERE.
Project Timeline 2020-2023
Date

Activities

Useful Documents

December 2020

Bushfire Community Recovery & Resilience NSW Funding Application submitted.

April - May 2021

Application Approval - $290,000 commitment to support the recovery of the Araluen Creek and its tributaries to its confluence with the Deua River.  Administration requirements and funding agreement acceptance.

June 2021

Scope of works planning, timeline and stakeholder engagement locked in.  Local Land Service, Soil Conservation Service, Upper Shoalhaven Landcare Council, Videographer Clare Young & Community Liaison Cath Harrison.

July 2021

Project information sessions held to provide project scope, seek expressions of interest and support from prospective participants.  More than 20 local landholders and interested community members attended the information sessions held on 18th & 30th July at the Araluen Hall.  Clare Young present recording interviews with participants and members of the Landcare executive.  LLS & Soil Conservation Service along with Cath Harrison conducted site assessments and identified 20 sites for remediation.

August - September 2021

Negotiations commence with interested landholders seeking commitment and confirmation enabling the project to move forward with planning and onsite work logistics preparation.  Meetings Cancelled due to Covid.

October 2021 

Review of Environmental Factors Assessment (REF) undertaken by Greg Stone, BASc.

November -

December 2021   

Landholder Agreement negotiations complete.  7 landholders committed covering 13 sites Site plans, costing and assessments completed.  Species Identification and plant lists prepared for revegetation of sites.  Currockabilly Nursery, Monaro Natives and Cool Country Nursery engaged to grow 1500 endemic tube stock for the project.  Biodegradable tree guards and hardwood stakes sourced.

January 2022

Supplementary items for participating landholders to exclude cattle from the creek and allow remediation and revegetation of sites including tanks, troughs, pipe, pumps and chemical - quoted and ordered from local supplier.  Fencing credits to be made available for participants at their local rural supplier to fence out remediated site.

March 2022

Araluen Mountain collapse – access problems in and out of the Valley.

Supplementary item of tanks delivered to sites identified where livestock will be excluded.

Contractor forced to postpone onsite works until Spring due to constant flooding and high flows at project sites.

April 2022

Tubestock for revegetation delivered to Araluen with planting to be held when sites are remediated.

May 2022

Workshop - Erosion Controls 28th May.  Well attended. Informative workshop led by Andy Taylor, Local Land Services, providing hands on technique to identify and remediate sites of erosion on your own property.  Variation to extend the project completion date submitted due to the ongoing floods and site access problems.

June 2022

Workshop - Weed Management.  The workshop was led by Daniel Anderson of Apical Bushfire & Planning. Daniel has 20 years of practical experience working with weed management he provided a group of 25 practical and informative advice, demonstration of technique, information on the best tools, how to tackle infestation, control strategy, chemical usage, safety and environmental factors.

July 2022  

Workshop Looking After Creeks.  Due to adverse weather delays we had to repot some of the tubestock as required to maintain growth.  Material delivery to sites commenced.

August 2022

Supplementary items delivered to identified sites.  Including cattle troughs and pipe.  Material delivery to sites continues.

September 2022

Workshop - Native Seed Collection & Propagation Workshop presented by Lyn Ellis.  On Saturday 3 September a workshop on native seed collection and propagation delivered useful, practical advice and hands on technique that gave participants the knowledge needed to collect and propagate native species at home.

October 2022

Consistent wet weather has resulted in onsite works not being able to commence.  High flows at sites and boggy conditions. USLC engaged to upload Project content onto website.

November 2022

Workshop - Seed Sowing Day was a strategy to reinforce plant stocks for future plantings of locally grown endemic plants.  On site works commenced.

December 2022

Onsite works continue up to 20 Dec for Christmas shutdown, 9 sites completed.

January 2023

Contractor delays due to unforeseen circumstances.

February 2023

Contractors completed remediation works on 11 sites.  Landholder stock exclusion and preparation for re vegetation.  Second Weed Management Workshop with Apical.

March 2023

Preparing for planting day set for 2nd April and planning timeframe for planting out other sites.

April 2023

Successful planting day with 25 volunteers, 420 tubestock planted, guarded and watered on showcase site H1.  Preparations for further tree plantings in May.

May 2023

Two Community tree planting events at site 4 and site 7. Over 800 tubestock planted with the help of local volunteers and Braidwood Homeschool group.

Presentation of Project summary at South East Landcare's regional Muster in Bungendore.

June 2022

July 2023

Submission of final grant reports and project acquittal.

September 2023

Film Premiere and afternoon tea to celebrate the completion of the project at the Araluen Federal Hall.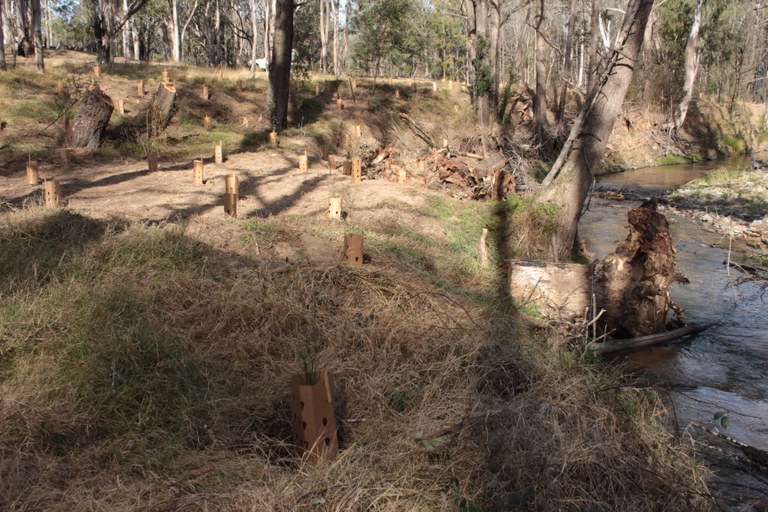 Tree planting and revegetation efforts completed at remediated site 13. Photo: Cath Harrison

 This is a Bushfire Community Recovery and Resilience Fund project through the joint Commonwealth/State Disaster Recovery Funding Arrangement