A Helping Hand - Numeralla Landcare Koala Recovery project
Post fire predator control to assist in koala recovery
A Helping Hand - Numeralla Landcare Koala Recovery project
Post fire predator control to assist in koala recovery
Capacity to Deliver
-
LP034-002
The issue
The Badja Forest Road fires burnt large areas around Numeralla in south-eastern NSW in early 2020. Over 4 weeks this fire burnt more than 300,000 ha of forest and was particularly devastating around Countegany and Numeralla. The area around Numeralla supports a range of tall eucalyptus forests that in turn supports a number of threatened species, such as the spotted-tail quoll and greater glider. The area is also recognised as containing the most stable koala population in the region. The intensity of the Badja Forest Road fire was such that along with the understorey, much of the eucalypt crown was also burnt. The result of this for the surviving koala population is that food is scarce and patchily distributed. During such situations, koalas spend more time on the ground and are more susceptible to predation. Through support from LLS SE Bushfire Recovery Funding our project aimed to control feral predators within areas directly affected by the fire and the interface with the remaining remnant vegetation near Numeralla. This project looked to reduce pest predation pressure through a targeted trapping campaign across known koala habitat and facilitate faster recovery for the remaining koala population and other surviving native animals.
The solution
Pest control was undertaken along 25km of the firescar boundary and adjacent properties. A cat-detection dog was used to survey the area to help identify trap positions. Qualified trappers were contracted to remove vertebrate pests using a combination of soft jaw and cage traps. Two trapping sessions were undertaken, each over 20 days and were conducted three months apart. Trail cameras were also used to monitor pest presence and abundance, as well as other species in the area. Any feral cat or fox that was caught was sampled to conduct dietary analysis to identify any prey animals. In conjunction with CSIRO, samples were also collected to test for RHDV antibodies. 
The impact
Thirty properties within the Numeralla area joined the control programs which covered approximately 5.5ha. The two trapping periods caught similar numbers of cats and foxes and overall a total of 8 cats and 5 foxes were trapped. These numbers identify that there was at least one pest predator present per hectare. The diet of these predators identified 6 different native species had been consumed, as well as rabbit. Results from the trail cameras detected rabbit, eastern grey kangaroo and wombats as the most numerous mammals. Other mammals detected, included koala, brushtail possum, red-necked wallaby, swamp wallaby and echidnas. Despite similar levels of trapping success, detections from the trail cameras found that foxes were identified more frequently than feral cats and both pest species were detected at higher levels in the first trapping session. The consistent trapping success between the two sessions identifies the dispersal capacity of pest predators and highlights the need for continual control if any long-term benefit is to be achieved. Landcare will continue to work with the community and LLS to maximise pest control effectiveness within our communities.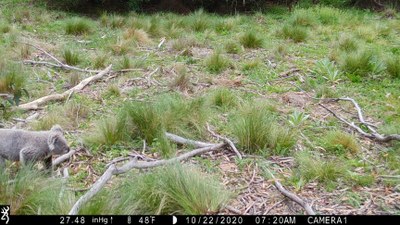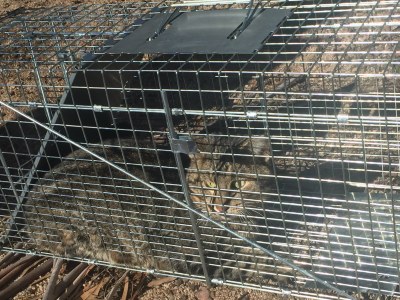 Key facts
Community concern over predation by feral cats and foxes
Predation by feral cats and foxes on native species is high
Coordinated landscape control needed
Repeated control campaigns essential for any long-term benefit
Project Partners