Traditional Native Grains and the Monaro
Exploring the history of native grain use and the re-development of traditional foods in Australian food production systems
Traditional Native Grains and the Monaro
Exploring the history of native grain use and the re-development of traditional foods in Australian food production systems
Capacity to Deliver
-
LP034-004
The issue
Across Australia, Aboriginal people have used native grains for their nutrition, health and sustained well-being for thousands of years – it is time to recapture those benefits for all Australians. Black Duck Foods (BDF) is an Indigenous social enterprise committed to traditional food growing processes that care for Country and return economic benefits directly to Indigenous people.
The solution
Using a $2,000 small grant from the NSW Landcare Program's 'Working Together' Aboriginal Communities Engagement Program, the Upper Murrumbidgee Landcare Committee (UMLC) conducted a workshop on 2 February 2022 titled 'Traditional Native Grains and the Monaro' at the Bush Heritage property 'Scottsdale' near Bredbo. Two representatives of BDF, three Bush Heritage representatives and 26 participants attended the half-day workshop.
Chris Andrew of BDF started the session outlining their philosophy and how Australia needs a different approach to working with First Nations Peoples, developing a 'licence to operate'. The topic then shifted onto how native grains can be incorporated into various food production systems. Issues around the absence of any Australian traditional food legislation, the cost of native grain production and the availability of native grain farms were discussed. A demonstration of the BDF harvester and the hand push version from Bush Heritage accompanied by a paddock walk, provided the opportunity for Chris Harris from BDF to get hands on with the grasses and point out the characteristics that make for ideal harvesting. Phil Palmer of Bush Heritage also described the methods used at Scottsdale to cultivate native grass and control weeds to promote natural grassland recovery.
The impact
Black Duck Foods and the local Ngunnawal people are planning further meetings in the future. Other links have been established with a local baker on the commercial use of native grains in bakeries in the region. Black Duck Foods have also been invited to attend meetings with at least seven (7) other Landcare Groups in the South East region.
Learnings
By Landcare supporting this discussion on a Bush Heritage property, it provides the opportunity for Aboriginal peoples, local farmers and conservationists to come together and explore native grain farming on the Monaro.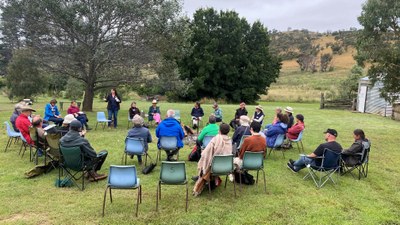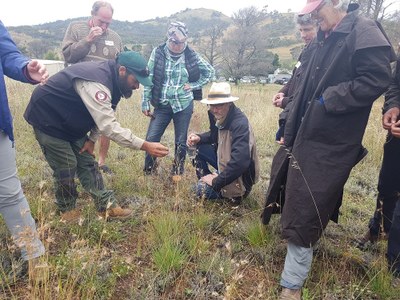 Key facts
Native grains provide tremendous nutritional benefits and have been harvested by Aboriginal peoples for thousands of years.
Cultivation of native grasses also controls weeds and promotes natural grassland recovery.
We need to develop a 'license to operate' and apply a different approach to working with Aboriginal peoples.